AHHHHHHHHHHHHHHHHHHHHHHH!!!!!!!!!!!! I'm having the best of luck finding books that captivate me, and this was no exception. And it was so different from the normal YA PNR.

Hot damn! I read this in a day, 24 hours. Shit! I couldn't put it down. I reluctantly did only to sleep and occasionally pay attention to my kids. Otherwise I was sucked, immersed into this magical world and never wanted to leave.
Fucking amazing!
This book was one hell of an amazing journey! I loved every second of it. I love dragons. They're so amazing, beautiful creatures. It was such a refreshing story from all the other PNR books out there.
It was also awesome to have the heroine, Jacinda be the creature, being among humans. Draki. That was fascinating, unique. I loved seeing her manifest into her purple and blue and green skin and her wings. Just amazing!

Jacinda




Will. I loved him from the start. He was the perfect hero, human and accepting from the get-go of what Jacinda was. But still wanting to be with her. The sexual tension between these two was electrifying, thick. But it was also a connection they shared, deeper than the physical. Will saved her over and over from his family. The people that hunt her kind. He saved her and kept her secret between them. I love this quote from Will, "A hunter in love with his prey." Gah, yes I love you too Will. Fuck, all these heroes named Will. I'm doomed.

Will Rutledge.....*dreamy sigh*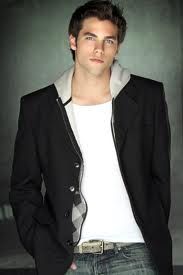 But then shit got real. And it got real. So much was happening, I was pacing with my book in hand, nervous as fuck. I knew something was going down. OMG I was so pissed and scared, especially towards the end. Ugh. No!!! That ending! Damn you Cassian! You fuck face asshole! I hate you!! Go back to the pride and stay there!!! She doesn't love you, you controlling, jealous piece of shit!!!!! Ahhhhhhh!

Xander, you're an asshole too! I hope Will beats the living shit outta you! This is all your fault!!! And Tamra, you're such an immature selfish brat for hurting your sister!!! I hope you get better in the next book. I'm so pissed right now! I have to go to sleep with that ending on my mind! I'm too tired to start the next one that is sitting on my shelf begging me to pick up. UGH! God, I'm so pissed!!!


Anyway, sorry I got carried away but I'm just so pissed right now. This book was amazeballs, awesomesauce! I loved every second of it!!! Every. Second. Go read it! READ IT!!!! GO!!



Jacinda in her Draki form......Beautiful!