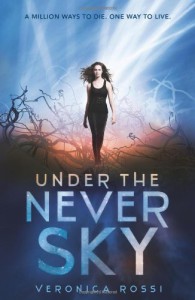 "A WORLD OF NEVERS UNDER THE NEVER SKY."

*4.5 brilliant stars*

Okay, first I want to take a moment to admire this beautiful cover. I mean, really, how freakin' gorgeous! I'm so glad I have a hardcover copy of this beauty on my shelf. The other cover didn't really do much for me. I'm glad they changed it. It just doesn't describe the story quite like this one. But this one...is perfect. Aria looks bad ass, and the scene around her says so much about the story, perfectly. Love it!

Okay, now I'll go on to say, that once again this book didn't 'wow' me from the start. I started it and put it down to read something else, hoping to come back and get more into it. Most of my friends have read and loved this book and I felt like something was wrong with me, not enjoying it the way I wanted to. There was so much going on in the world that I was having trouble keeping up, trying to picture it all. But thankfully, I kept on. I knew eventually I would be so engrossed in the story to enjoy it more.

And so I did.

About halfway, it got really good. Lots happening. Lots of getting explained and lots of world building that started to fascinate me. Such a descriptive, imaginative world. Finally, I couldn't put it down. It wasn't until 5 AM rolled around that I forced myself to put it down. I hated doing it, I could've finished it. But my eyes weren't focusing no matter how many times I tried slapping myself. It didn't help. And I wanted to be conscious while taking in this magnificent new world that Rossi so amazingly created.

I picked it back up today and just got sucked into it. The world, the characters, the romance, the emotions, it was all brilliantly put together. I fell in love with Aria and Perry from the beginning. And then Roar came into the picture and I fell for him too. He was awesome. Perry's funny, sarcastic best friend. I loved him too.

I'm so glad I kept at it. I have a hard time getting into Dystopian. I think it's just the fact that it's slow going at first because of the world building and character development. But one thing I loved about this was, Aria and Perry started off as enemies. Both lost someone special and on the search to find them. They both need each other for survival and to get back her mother and his nephew. So they form an alliance. Albeit, Perry was very cold to her. But it was understandable. Perry had saved her life in the beginning, and then she got his nephew Talon taken, or so he thought it was her fault. Once they start on their quest to rescue their loved ones, their relationship changes unexpectedly. And it's not overnight. It takes some time. But I loved seeing how Perry was reacting to her, and the changes he was going through. He's a Scire and a Seer, and can sense her emotions through smell, not just hers but for this story, it becomes important. So he knows through most of the book how she feels about him just by getting her sense, which isn't always good. To her, he's cold and closed off. She can't sense his emotions since she doesn't have that ability. They come from different worlds. He's an Outsider, she's a Dweller or what he first refers to her as, "mole", stumbling upon his territory. He doesn't like her, not at first. Not for a while.

Overtime, they formed a bond that's so beautiful. He becomes protective, kind, open and honest. And then their romance takes a turn, and I got all giddy and flushed. It was so sweet and romantic. The way he held her, the subtle touches between them, describing the way she smelled to him; sweet like violets. It was so great to experience it all. I felt all the emotions they both felt toward each other and damn, it was potent. But I was so happy when things started happening between them and when he trusted her enough to open up to her and would tell her what he feels for her. But he's a Blood Lord and has responsibility to his tribe...or he will at least, when it happens, so it's kinda forbidden to mix their blood. Still, you could see he didn't care about right and wrong. Eventually he took her to find her mother. A bunch of surprising revelations were revealed and we learned more about Aria and what her mother did, and who Aria, or more accurately, what she is. And it seemed like they had more in common than they originally thought. Still, it's very complicated.

I loved the interactions between Roar and Perry. They've been best friends, for a long time. He's in love with Liv, Perry's sister who ran away from their tribe. So Roar is on the hunt for her, when he runs into Perry and Aria. They go together, and lots of danger approaches where they have to stay with a friend of Perry's Marron until danger clears. That's the turning point for me. From then on, I was sucked into the story, couldn't get enough of this trio. They're each magnificent characters, with unique personalities. I wanna learn about Roar, which I guess that's what his novella is for. I'll read that soon. I liked how he right away took to her, treating her nicely. He was accepting of her from the beginning. And from the start they formed a friendship. A friendship that I hear only gets more intense and wonderful. I can't wait to see that in the coming books.

I loved how this was from both Aria and Perry's POV. Even though it was in 3rd person, I could still feel their voice as if it was from them in 1st person. Rossi managed to wow me with this unique tale of survival, loyalty, love, friendship and a world so different from our own.

Under the Never Sky is a MUST READ. And I'm so excited to hear it's been optioned for film too. I can't wait to see how they bring this masterpiece to the screen. They better not fuck it up! But Warner Brothers is a great production company so I have a feeling this will not disappoint! Now I need to make plans to buy Through the Ever Night. After that ending, I'm dying for more Perry, Aria and Roar!

Favorite Quotes:

"Aria...everyone feels lost and low. It's a how a person acts that makes them different. These last days you kept going despite those feet. Despite not knowing your way...despite me."

Aria pulls the covers over her, hugging them close. "Will you stay? I think I'd sleep better if you stayed here tonight. Then we could miss them together."

"Do you see?" Aria said softly.
He did. "Our rocks are better."

Perry could no longer deny that it was common knowledge, Aria was the safest path to him.

"I've been watching you and Roar. Wanting it to be me training with you." His shoulders came up. "I don't want to do it now."
"Why?" Aria's voice was high and thin.
He smiled, a flash of shyness, before he leaned close, "There are other things I'd rather do when I'm alone with you."
Time to step off the edge. "Then do them."

Roar didn't help. "You need to get closer to her, Peregrine," he called out. "And her stance is all wrong. Turn her hips."

Roar didn't blink as he watched her. When she finished, Roar shook his head. "Aria...that was...I can't even...Perry, you have no idea."

"People can be the cruelest to those they love."

"When you say everything happens in the Realms, do you mean everything?"
Aria laughed nervously, "Yes. Especially that. There are no risks in the Realms."
Roar's smile widened. "You simply think it and it happens? And it actually feels real?"
"Why are we talking about this?"
"I need a Smarteye," he said.

"I remember you running away from my father with your pants around your ankles."
"That's right. I tore them on a tile on the way down. I don't think I'd ever seen Liv laugh so much. Almost made me want to stop running just to see her like that. Hearing it was pretty good, though. Best sound in the world, Liv's laugh." Roar's smile faded after a moment. "He was fast, your father."

"That was my first kiss." She said. "My real first kiss."
"Felt like the first real one for me too."